Shuttle Service from Runaway Bay Hotels to Ocho Rios Attractions & Shopping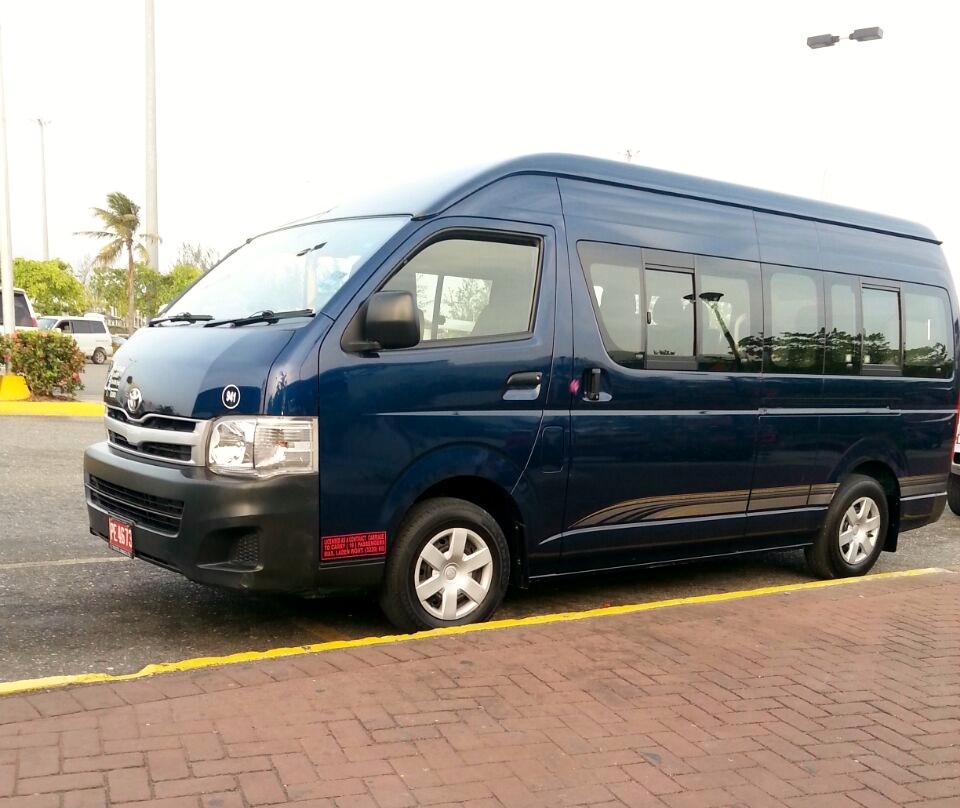 Duration: 15 Minutes (approx.)
Product code: P0RFH8
El Sol Vida provides low cost shuttle service from Runaway Bay Hotels to Ocho Rios Attractions and Shopping Mall.
You will be picked up at your hotel lobby and the shuttle will stop at other Runaway Bay hotels before heading to the Attractions and Shopping Mall listed below (NB. The shuttle operates every 4 hours between each destination).
Turtle Beach Ocho Rios:
Come and experience the sand, sun and sea that is uniquely Jamaica. Upon entry, for a small fee, your hand will be stamped to allow re-entry at any point during the day. Once inside, relax in the shade (sun beds and umbrellas are available for hire at your own cost), bask in the sun, or take full advantage of the approximately 500m long beach's warm water on the east side of Ocho Rios Bay as you swim or participate in diverse water sports (scuba diving, kayaks and other activities are available at your own cost). Light refreshments, changing rooms, showers and toilets may also be accessed on the beach.
Taj Mahal Shopping Mall:
As you venture around this scaled replica of Agra, India's famous Taj Mahal - a mausoleum built by the Mughal emperor Shah Jahan, in loving memory of his wife Mumtaz Mahal - enjoy the location's array of souvenir shops (Cigar Planet, Cool Runnings, Harley Davidson and Reggae Jam) and duty free jewellery stores (Bijoux Jewellers, Casa De Oro and House of Diamonds).There is also an upmarket café (Café express) where you can savour a cup of Blue Mountain coffee and an open-air bar and grill (Reggae Café) to complete your experience in this Caribbean integrated reproduction of history.



Mystic Mountain:
Satisfy the adventurer within as you enjoy the location's main attractions. Each attraction must be paid for separately but if you shop around you might find special deals that allow you to do a combination of activities.
1.
The "Rainforest Sky Explorer" - a chairlift journey (for about 15 minutes each way) which takes riders 700 feet higher from the entrance, spans about 1.3 miles to expose magnificent views of the rainforest, the north coast, and educational displays en route, and takes riders back to the entrance.
2.
The "Rainforest Zip-line Tranopy Tour" - a series of zip-lines (full safety gear is provided) to get your adrenaline pumping as you tour the tree-top canopy above Mystic Mountain (NB. One of the zip-lines features a near-vertical drop of ten meters).
3.
The "Rainforest Bobsled Jamaica" - a bobsled experience of a lifetime, where you will share the experience of the first Jamaican bobsled team as you race down 1,000 meters of stainless steel track in high-tech bobsled carts set off from the Mystic Pavilion. Use the brake on each bobsled to control the speed of descent or freewheel at speeds of up to 40 mph as you enjoy the ride. Tram trips back up to the Pavilion are provided afterwards.
In addition to the above mentioned attractions, there is a water slide that plunges into the refreshing waters of the mountain side infinity pool for those who prefer a milder form of activity. Furthermore, you can explore the Pavilion's Railway Station - designed by Jamaican architect Ann Hodges to replicate an early 1900's Jamaican train station - and stop at the lookout tower, gift shop and restaurant (called "R2 at 700ft"). Within the doors of the "R2 at 700ft" explore local and international dishes, along with several dishes prepared for children.
Dolphin Cove:
Just five minutes drive west of the centre of Ocho Rios, awaits the opportunity of a lifetime. Dolphin Cove provides animal lovers and thrill seekers with the opportunity to get up close and personal, at various levels, with some of the world's most amazing animals. Depending on the chosen package, you could have the opportunity to touch, swim with, or care for the Dolphins - an experience you won't forget. Additionally, your visit to this unique attraction provides you with the opportunity to watch (included in admission fee) and interact with (own cost) the Sharks, or snorkel with Caribbean Stingrays. What more could one ask for? Finally, simply swim, explore other activities like glass bottom kayaking and mini boat rides, or just enjoy the Iguanas and Parrots of the "Jungle Tour" to complete your day before heading to the location's beach grill, coffee shop, or bar.
THINGS TO NOTE FOR THIS LOCATION
Leave watches and jewelry at home as you are not allowed to wear this whilst swimming with the dolphins and lockers are not available.
Do not wear sunscreen until after you have swum with the dolphins as this can burn their eyes.
Bring a towel as these are not available to borrow or hire.
Children under six are free with paying adults.
It is necessary to make reservations to participate in the dolphin programmes.
You must be at the lagoon at least half an hour before your programme is due to start.
Age restrictions apply to some programmes - check before you book.
Dolphin Cove is wheelchair friendly.
Dunn's River Falls:
Escape to the garden parish of Ocho Rios and get your feet wet as you climb the famous 600 ft waterfall featured in the movies of Tom Cruise and James Bond. This exquisite landmark, The Dunn's River Falls, provides the perfect environment for fun and relaxation and is one of the island's most visited attraction. In addition the the falls, the location also has a beach for swimming and sunbathing, and a cafeteria that provides visitors with exceptional Jamaican cuisine.